So, I just watched Coco and UGH IT WAS SO EMOTIONAL AND MADE ME CRY A LOT. Unfortunately, I didn't watch it theater because I didn't have anyone to bring. And I feel really bad because this film deserves my money. Although...... Olaf's Frozen Adventure.... no thanks.
Coco's Poster
Before I talk about Coco, let's talk about Olaf's Frozen Adventure because wow, it sure got a lot of backlash. In Mexico, the short was taken off the theater after only 1 week screening because so many people complained about it. In US, the short was taken down as well starting from December 8, however Disney claimed that it was taken down because "Olaf's Frozen Adventure was meant to get limited release and it ends on December 8". Even though in the trailer they never stated that the "short" would stop showing on theater on that date. Disney pretty much refused to accept the fact that Frozen's hype is dying.
You're horrible Olaf go away
So what's wrong with Olaf's Frozen Adventure? Well, the "short" was 21 MINUTES LONG. I heard there were a commercial break as well, which made Coco started playing after 45 minutes. Just wow. Olaf's Frozen Adventure was planned to be aired on ABC at first, but Disney didn't see any potential with Coco (is this because none of the cast are white? Hmm Disney) so they decided to play it before the movie. If it were played on ABC I doubt it would get as many hate as now, but usually short before movie are usually only lasted for 5-7 minutes so audience don't really mind it. 21 minutes is just... too much.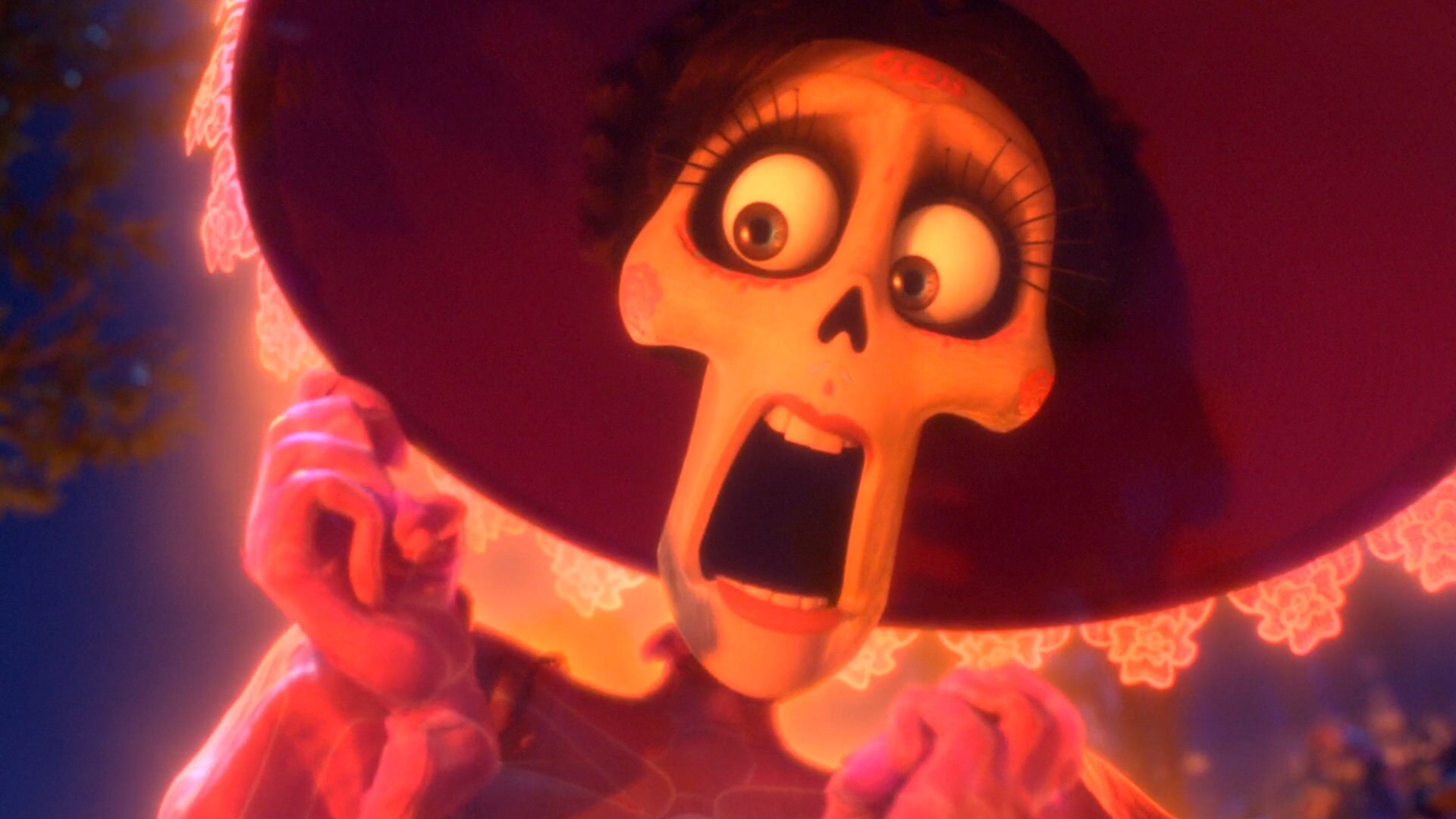 :O
PARAGRAPHS BELOW CONTAINS SPOILER! All text filled with black background are very "spoily" so beware.
Okay, enough complaining, now let's talk about the actual movie. Miguel is a music-loving boy in a family where music is forbidden. Why? His great great grandfather abandoned his family because he wanted to be a musician. Her wife was very mad and decided to ban music from her family. After some argument with his family, Miguel thought "I've had it with this crap, I'm just gonna abandon my family brb" and left. He went to his alleged great great grandfather De La Cruz's grave, a loved Mexican musician, and used his guitar because his family destroyed his. Apparently, that guitar sent him into Land of the Dead where all dead people live. And a great adventure ensue....
Reminded me of that one scene in Kubo and the Two Strings idk
First of all, I LOVE the skeletons' design. When I watched the trailer, I thought they looked weird but in the movie they looked so much better for some reason. Their movement are different from human, it was... boney? I don't know, but it's really unique. I also love how similar the skeleton are to them as a living person. The character designer made sure every single skeleton are different, just like how they design human. I really adore it.
De La Cruz comparison
The characters themselves are very lovable and memorable. Miguel acted like a normal kid would act. Sometimes selfish but not evil. There's this character named Hector who started out as a bit of a jerk and manuplative but once you knew his history, you will understand why he acted that way. Yeah... family and such. Not gonna spoil it. Speaking of motives, remember when I said that Miguel's family hated music? It's not there just because the movie needed conflict, there's a reason. You see, Miguel's family really respected the whole 'family culture'. They kept photos of all of their main family for Dia de los Muertos (which I'll explain later) because they want them to keep remember their family. Well... except for Miguel's great great grandfather because he was the man who broke the culture. He left his own wife named Imelda with a baby just to reach his own personal goal, and never returned. Music was the one who broke the family. It left Imelda to struggle raising a child alone.
angery Imelda
I adore how much the crew did their research of Mexican culture. They actually went to Mexico for making this movie. The village Miguel lived in looks very Mexican and it was just gorgeous. The design of The Land of the Dead was great as well. There was lights everywhere and it looks mesmerizing. And for Dia de los Muertos, they explained it very well. Like, at first I thought that holiday was Mexican halloween or something, but it's actually about family. You see, families put up their deceased one's photo for a sign that they remember them. In Dia de los Muertos, they will visit The Land of the Living as long as there someone who still remember them. And if no one in real life remember who they are in the real world, they will permanently die (to avoid overpopulation). I never knew that in my whole life before this movie! I feel bad for thinking that the sugar skull makeup was just random makeup trend, but it's actually symbolize how much a family should remember each other even if they already passed away.
Yes, Coco is actually the old lady and not the boy
As much as I love Coco, yeah, it still has some flaws, although it doesn't bother me much. There's a lot of cliches, such as the music contest that the protagonist wanted to join but couldn't and final concert.
There's also the Disney villain twist thing that got very old at this point, but in this movie I have to give credit that in this one it worked much better than in other movie. Seriously, I didn't expect the villain
was actually a murderer just to steal someone's fame.
Also t
his is completely unrelated but Hector in real life is.... quite attactive. Remember in my Motorcity first impression that I have a thing for tall and skinny nerd? Yeah, he's pretty much like that when he lived. His skeleton form though, he looks like a hobo! I'm disappointed. But whatever, he reminds me of the guy from Paperman. I love them both. I'm such a creep AGH.
Hector as a skeleton which is not attaractive at all 0/10 go back
Overall, Coco is a highly recommended movie. It's currently my favorite Pixar movie! You should watch it in theater immediately. Don't be like me. Thank you for reading, see ya!